When you're planning a trip for your group, whether it's a big wedding, a corporate event or just a group of friends getting together, transportation can be the most difficult aspect of organizing an event. If you're looking to rent a limo or bus in Fort Wayne, Indiana, there are plenty of options to choose from. However, it can be confusing trying to decide which company will give you the best deal and provide reliable service.
How Much Does It Cost For A Party Bus?
A Party Bus can range in price based on your needs. Sometimes it's even more effective to get a party bus than a limo, as it seats more passengers. A common rate for party bus is $90 to $250 an hour depending on how many people you plan to bring, pick up and drop off location.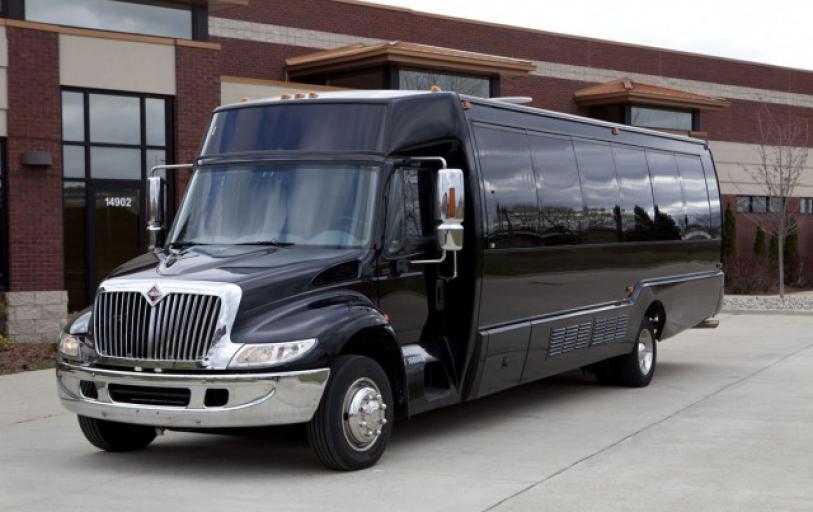 What is a Party Bus?
You have a couple options when thinking about a party bus, you can get a Party Bus or a Limo. Both types of vehicles are great options as they can seat from (10 people) to large groups (40-50 people). The party bus is very much like a limo, the driver becomes your own personal chauffeur. There is an array of different types of cars to suit your different taste and the mood for your overall event. Pick and choose whatever style, color and feel you want for your car and have a fun time with your friends and loved ones.
How many people fit in a party bus?
When planning to book a party bus, there are many options to seeing what best fits your needs. There is different kinds and different sizes of vehicles such as a Party Bus, Charter Bus, or a Limousine to safely and comfortably transport your group to your event. A normal sized Party Bus can seat anywhere from 12 to 28 passengers. However, a Limousine or SUV is ideal for 6-12 passengers
Where to go on a party bus?
School Events
Weddings
Birthday Parties
Prom
Night Out With the girls.
Bachelor/Bachelorette Party
Corporate Events
Sporting Events
How much do you tip a limo driver?
When thinking about what to tip your limo driver, there are few things you should keep in mind. To start, think about how was the overall service, timeliness, or the condition of the vehicle you received. A good rule of thumb is to tip about 20% of the price, if the service was overall a great experience.
What size and what type of Party Bus should I get?
When planning to book a party bus, there are many options to seeing what best fits your needs. There is different kinds and different sizes of vehicles such as a Party Bus, Charter Bus, or a Limousine to safely and comfortably transport your group to your event. A normal sized Party Bus can seat anywhere from 12 to 28 passengers. However, a Limousine or SUV is ideal for 6-12 passengers
How old do you have to be to be in a party bus?
If the trip is a nighttime bar event, everyone on the bus must be 21 years of age. The only exceptions are when we are going somewhere that the people under the age of 21 can get into.
Limo & Bus Rental Prices in Fort Wayne
| | |
| --- | --- |
| Vehicle | Rental Pricing |
| 6 Passenger Limo | $110-$145 hourly* |
| 8 Passenger Limo | $120-$155 hourly* |
| 12 Passenger Limo | $125-$165 hourly* |
| 18 Passenger Minibus | $140-$170 hourly* |
| 20 Passenger Party Bus | $150-$200 hourly* |
| 25 Passenger Party Bus | $160-$220 hourly* |
| 30 Passenger Party Bus | $180-$260 hourly* |
| 30 Passenger School Bus | $145-$240 hourly* |
| 50 Passenger Coach Bus | $150-$240 hourly* |
| 56 Passenger Charter Bus | $150-$260 hourly* |
*Prices vary greatly depending on the city and state of your service. Due to COVID-19, rental prices shown in past estimates may not reflect actual pricing which may be significantly higher depending on availability.
What's the Benefit of Party Bus Fort Wayne?
The benefits of riding in a party bus are many and varied. First, you can bring whatever you want! If you're heading to the lake, bring your fishing poles. Going out for dinner? Bring your favorite bottle of wine. Going to the airport? Bring your carry-on bag! Whatever it is, there will be room for it on our buses. We also have TVs with DVD players and all kinds of games (board games, card games, etc.) available at no extra charge so that you can keep yourself entertained while traveling from place to place in style. And don't forget about our music! Most people choose their own playlist or streaming service when they get into one of our vehicles but if there are specific songs or artists that everyone wants to hear then we can help coordinate those requests too – just ask us when making reservations!
How Do I Book a Sprinter Van Rental?
Booking a Sprinter van rental is an easy process. We have several rental locations throughout the country, so finding the one closest to you is a simple matter of calling up our customer service team and letting them know what you need. They will be able to give you an instant quote over the phone and also suggest options for other services like limo rentals that might better suit your needs. If you prefer not to call us, booking online is also an option. If it's important that your booking be secure and confidential, we offer several ways for clients to book either by phone or email with one of our representatives at any time during regular business hours Monday through Friday (excluding holidays).
What Kind of Sprinter Van Models Do You Have Available?
We have a large number of Sprinter Van models available. The most popular vehicle in our fleet is the Sprinter Passenger Van, which can hold up to 15 passengers and has plenty of space for luggage. We also offer the Mercedes-Benz Sprinter Cargo Van, which can be configured with a variety of useful features such as: A low load floor that allows easy access to cargo inside the vehicle. A second row of seats that allow you to seat passengers while carrying cargo.
How Much Will It Cost to Charter a Bus?
The cost of renting a bus depends on several factors. The size of the bus, how many people you want to take with you, where you will be going and what kind of event it is all contribute to determining an accurate price. The most important factor in determining the cost is how long you need the bus for; if it's just going to be used for a short period then the price will be lower than if it were needed for an extended period or multiple days. The lengthier use also means that there are more costs involved such as fuel consumption and maintenance. Another factor affecting pricing is whether or not they will require payment in full before delivery or if they offer discounts based on prepayment options like cash payments vs credit cards etc…
What Limos Are in Our Fleet?
We have a variety of vehicles available for rent in our fleet. Here are some of the most popular ones: Limousines: These stretch-style passenger vans can hold up to 15 passengers, and often have room for luggage. They're ideal for large groups or families who want to travel together. SUVs: Our SUV rentals come in 3 different sizes, so you'll be sure to find one that meets your needs. The smaller ones are perfect for small events or trips around town; the larger ones are great for transporting big groups of people; and the largest SUV we offer is great when you need to transport lots of people with lots of stuff! Sedans: If you're traveling alone or only have two people in your party, our sedans are perfect! They come equipped with adjustable lumbar support and a touch screen display so that everyone stays entertained while they're on their way from A to B (or from B back again). Minibuses: You may be surprised at how spacious these mini buses can be! They hold up to 22 passengers comfortably and will even include extra legroom if requested ahead of time
Why Do Some Bus Quotes Seem So Much More Expensive Than Others?
One of the most common questions we hear is why a quote for one bus rental can be so much higher than another. The answer to this question is simple: it depends on what kind of bus you need and how many people are in your group. For example, if you need a luxury coach with leather seats and an onboard restroom, then the price will likely be higher than if you want a charter bus that has regular cloth seats and no restroom on board. Also, if your group includes less than 15 people or more than 35 people, we'll give different quotes based on those numbers as well! We understand that this may seem confusing at first but rest assured that our experienced team will help guide you through every step of the process until everything is just right for your trip!
How Much Does a Party Bus Rental Generally Cost?
One of the first things to consider when you're thinking about renting a party bus is how many people need to be transported. If you are hosting a large event, such as a wedding or conference, then you may require more than one vehicle in order to accommodate all of your guests. The cost also depends on where you want to travel and how far away from Fort Wayne this destination is located. There are some websites that offer price comparisons for party bus rentals in Fort Wayne, but their information can be limited based on what type of service they offer and where they operate from. If possible, it's best if you contact us directly so we can provide a quote based on your specific needs and requirements.
How Far in Advance Should I Reserve My Bus?
It's best to reserve your bus as soon as you know your travel plans. If you're planning on traveling during the holiday season, try to book your trip at least a week before the date of departure. This will give our office plenty of time to confirm all reservations and respond if there are any problems with your reservation or transportation needs. Don't wait until the last minute! We also suggest booking early because we may not be able to fulfill all requests if many people are trying to reserve at once. To make things easier for everyone involved (and avoid confusion), please refrain from calling or emailing us when it gets close to an event date; instead, use our online form so that everything is documented for future reference!
What Is Your Service Area?
Fort Wayne and all of the surrounding areas. If you need to get from point A to point B, and there isn't a convenient public transportation option or taxi service available, then we can help! New Haven, Plymouth, Jasper, Huntington and other towns surrounding Fort Wayne. Our fleet includes many different vehicles so if you're in need of something larger than a town car but smaller than an SUV or limo bus, we have your back!
If I Don't Need the Bus for the Entire Day, Will I Still Need to Pay For It for the Entire Day?
Yes, you only pay for the time you use your bus. You can pay with a credit card or check. If you are not sure how long you need it, we recommend renting the bus for a few hours and then deciding later if you need more time or not. There is no need to overpay for unused time on your rental contract!
Transportation is one of those things you want to worry about as little as possible. Let us take care of it so you can enjoy your day.
We make it easy for you to book transportation services. You can book online, over the phone, by email, text message and more! We have a variety of payment methods available including credit card, cash/check and even carrier pigeon if that's your thing.