Whether you're planning an epic bachelorette party or just want to give your best friend a special night out, we've got everything you need right here. We have the perfect selection of vehicles and transportation options for your Fort Wayne bachelorette party that will get everyone in the mood for a good time. Whether you are looking for buses or limos, we have it all!
Party Bus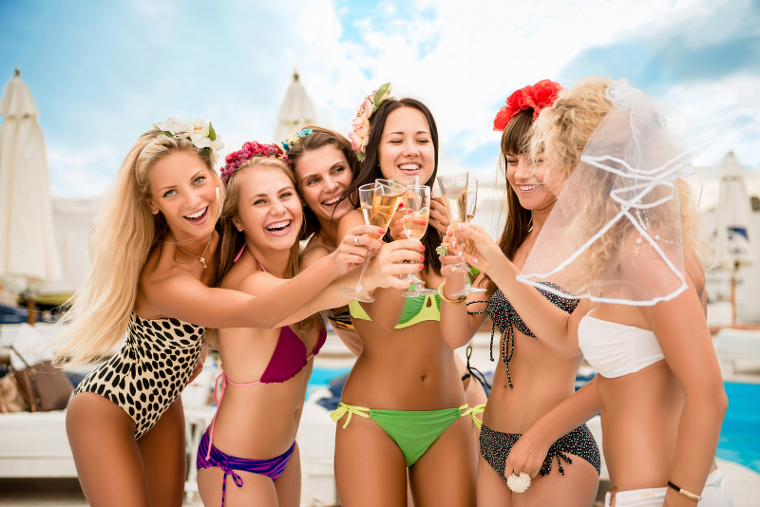 Make Rental Reservation | Check PricingLimos, Party Buses, Shuttles
We offer a wide range of these services to help you plan your special day. We know how important this day is to you so we will do everything possible to make sure that it goes off without a hitch. We have been in operation for years now and have built up quite a reputation as being one of the best companies around when it comes to providing high quality service at an affordable price. Having been in business for so long has given us plenty of experience working with groups on all kinds of occasions such as weddings, birthdays and other special events. Our drivers are all trained professionals who will help keep things running smoothly while making sure everyone gets where they need to go safely and in style! We also guarantee them safe transportation both before AND after their trip back home which means no risk whatsoever when using our services!
For the ladies, our bachelorette party bus rentals are popular in Fort Wayne. Ladies who are hitched and about to tie the knot will want a unique way to celebrate their bachelorette. What a great way to do so, and then look at our bachelorette bus rentals for parties? These work great for different party occasions. We offer party amenities like luxury seating, lounge-like ambiance, great music and entertainment on board. These facilities can help make your bachelorette party ride a great success. Your friends will surely love the novel way to party about town. Our pick up and drop facilities make it hassle free for your party guests. You could book our limos even for small party celebrations.
Fort Wayne Limos
We have a wide selection of vehicles to suit any event, any time. Our limousines and party buses are perfect for bachelor/bachelorette parties, proms, sweet sixteen parties and other special events. We can accommodate any size party from small groups up to 100 people! Our expertise in planning the perfect party will ensure that you and your guests have an enjoyable time on your special day! If you need help deciding which vehicle would be best for your event or if you just want some guidance in planning out the details, we offer complimentary consultations with our event planners who will help plan out every aspect of your celebration!We are Fort Wayne Limos. We are proud to be recognized as the best limo service in Fort Wayne Indiana by thousands of satisfied clients who have trusted us with their transportation needs over many years.

View Party Buses NowParty Buses & Limos
Are you looking at our party bus rental Fort Wayne for booking purposes? You can simply look up our online catalog to choose the perfect bachelorette party bus. If you are confused as to how to make a choice, we can help you make the right one.
We recommend our small party bus rental coaches for small party groups. There are different coaches you could look at. We offer motor coaches, shuttle buses, passenger party buses and charter buses. These come with varying seating capacity. Pick and choose a model as per the number of passengers you need to accommodate. These could vary from 14 to 50.
We have our limo service Fort Wayne where select and premier limos and other cars are available for hire. You could take a look at models like the Cadillac Escalade, Chrysler 300, Hummer Limos, Ford Excursion, BMW, Mercedes-Benz or Lexus. Premier cars and limos are perfect for special occasions like weddings or for group rides. Get a limo ride for your friends about town for your wedding even.
Besides bachelorette party buses, why not consider shuttle buses or limos for such an occasion? These are ideal for people from 2 to 14 in number.
View Limousines NowLimos & Party Buses
Bachelorette parties party bus and limo service prices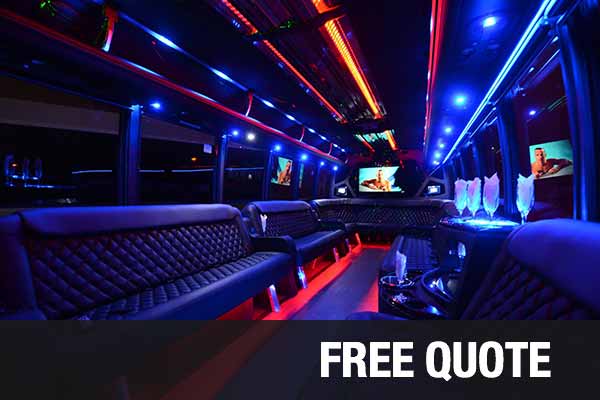 There are different kinds of travel packages we offer. Avail of discounts on our party buses and limos on rent as well. If you wish to change the prices, let us know the number of people traveling, hours of hire, distance to cover and amenities you wish to use. We can help you select the perfect bachelorette party bus package to suit your needs and budget.
Things to do

View Party Buses NowParty Buses & Limos
When you visit Fort Wayne there are several places to visit such as:
Foellinger-Freimann Botanical Conservatory; it is a center for learning about plants which are a must visit.
Fort Wayne Children's Zoo; children will love to check out the animal species kept here.
Embassy Theater; check out performing arts programs at this historic venue.
These and several other places are worth seeing in and around Fort Wayne. Avail of our party buses for rent which can be field trip buses as well. These are ideal when you are traveling with your own group.
Why a Bachelorette Party Bus?
If you're planning a bachelorette party, then you know that the most important part of any good bash is transportation. The last thing anyone wants to think about when they're having fun is how they're going to get from place to place. If you want to make sure your guest of honor has an unforgettable time, then chartering a bus or limo is the way to go. Make it easy on everyone: While designing your itinerary and planning out where each stop will be might seem like enough work for one night, there's also coordinating with all of the people who are coming along for the ride! With a bachelorrete party bus, this becomes much easier because there's always more room than in typical vehicles—plus it gives everyone peace of mind knowing that no one will have any trouble getting from Point A (wherever their first stop may be) straight through until Point B (wherever their second stop might be). Have more fun: Another perk of renting one of our buses is that it comes equipped with things like televisions and DVD players so if someone gets bored on the ride over there's plenty for them occupy themselves with inside instead!
Why Choose Fort Wayne Limos
This is the question we hear most often and understand why it is asked. However, it can be difficult to explain the benefits of choosing Fort Wayne Limos over other companies without sounding like a commercial. The reason we've been in business for over 20 years is because our customers are happy with our service and recommend us to friends and family alike. We have grown as a company because we have earned the respect of our clients by providing them with an outstanding transportation experience every time they ride with us! Our fleet consists of many different types of vehicles so no matter what your occasion may entail or how many people you need to transport we can accommodate your needs exactly!
Selection of Limos, Party Buses & Minibuses
If you're looking to rent a party bus or limousine in Fort Wayne, Indiana, we have you covered. Our fleet includes a variety of vehicles that are perfect for bachelor/bachelorette parties, wedding parties and other special occasions. Our selection includes the following types of vehicles: Party buses – These can hold up to 50 people and include a flat-screen TV, bar with ice machine and refrigerator, lights inside that change color according to the mood of the driver during your party bus ride through Fort Wayne! Limousines – These are great for transporting small groups or couples who want to get chauffeured around town while enjoying privacy in their own vehicle. You can choose from sedan or stretch models depending on how many passengers you need to fit comfortably inside. If you're traveling with your whole family or friends group then consider renting a charter bus instead! Charter buses offer plenty of room but also allow guests plenty freedom since there won't be any designated seating arrangements like with other types of transportation options
Plan an Epic Night
In order to make your bachelorette party a night to remember, it's important to think through all the details. What you'll wear is obviously a big factor. But where you're going and how you get there are two other things that require careful consideration. Here's what we suggest: Plan ahead for transportation. You can't have a great night without getting there! If your venue requires shuttle service or private transportation, contact us today so we can help coordinate everything for you before the big day. Pick an awesome dress code. Everyone looks great in either black or white (or both!), so this is an easy choice if you ask me! Your bachelorette party will be here before you know it—so don't wait until then to start planning out how everyone will look on the big night!
We're Here For You
We're here to make your bachelor, bachelorette, or birthday party a success. Our company has been helping people get where they need to go Our drivers and staff are trained to give the best service possible. If you have any questions or concerns while planning your trip, our team is available 24/7 with answers . No matter what time of day it is or how busy we are (we can handle it) we will do everything in our power to get back to you as quickly as possible with an answer that fits your needs and requests.
Dependable Vehicle That Is Worth the Trip
You should book a reliable vehicle. The vehicle you ride in should be of high quality and worth the trip. It should also be reliable, dependable, and worth the price. Our company has been in business and has built a solid reputation as one of the most reliable companies in our area. We pride ourselves on being able to show up on time without fail so that everyone can get where they need to go safely and comfortably without having any worries about whether they will be there on time or not.
Limo & Bus Rental Prices in Fort Wayne
| | |
| --- | --- |
| Vehicle | Rental Pricing |
| 6 Passenger Limo | $110-$145 hourly* |
| 8 Passenger Limo | $120-$155 hourly* |
| 12 Passenger Limo | $125-$165 hourly* |
| 18 Passenger Minibus | $140-$170 hourly* |
| 20 Passenger Party Bus | $150-$200 hourly* |
| 25 Passenger Party Bus | $160-$220 hourly* |
| 30 Passenger Party Bus | $180-$260 hourly* |
| 30 Passenger School Bus | $145-$240 hourly* |
| 50 Passenger Coach Bus | $150-$240 hourly* |
| 56 Passenger Charter Bus | $150-$260 hourly* |
*Prices vary greatly depending on the city and state of your service. Due to COVID-19, rental prices shown in past estimates may not reflect actual pricing which may be significantly higher depending on availability.